How a common data standard can support e-mobility adoption
16. November 2023
The International Energy Agency IEA forecasts a total of 14 million new e-cars by the end of 2023, which represents growth of 35 percent compared to 2022. However, scientists, environmental associations and economic experts agree that e-mobility adoption could generally be faster. So what are the hurdles and how can the global e-vehicle market be boosted? According to Forbes magazine: "To achieve mass adoption, we have to solve interoperability." The NDS Association is committed to this interoperability and a common data standard that will drive sustainable and innovative developments in the field of navigation and transportation. A common data standard can significantly support e-mobility adoption by addressing key challenges in the electric vehicle (EV) ecosystem, promoting interoperability, and fostering innovation. Let's get to the bottom of this important topic.
Hurdles to be overcome regarding e-mobility
E-mobility has made significant progress in recent years, but there are still some hurdles that need to be overcome to encourage more people to buy electric vehicles (e-cars etc.). The main challenges include:
Range anxiety: many people fear that the range of e-cars will not be sufficient to meet their daily needs. Although the range of e-cars is constantly increasing, improvements in battery technology and a better charging network must further reduce range anxiety.
Charging infrastructure: Charging e-cars should be as convenient and accessible as refueling conventional vehicles. More public charging stations and fast charging stations are needed to improve the charging infrastructure and make everyday life easier for e-car owners.
Price and subsidies: Although the cost of batteries and e-cars is decreasing, they are often still more expensive than conventional vehicles. Further incentives and subsidies from governments and manufacturers could make the purchase of e-cars more attractive.
Used market: A well-developed market for used EVs could improve accessibility for price-conscious buyers and further reduce the environmental impact.
Charging times: Fast charging is important to facilitate the everyday use of e-cars. Shorter charging times and advances in fast charging technology are needed.
Battery technology and lifespan: Improvements in battery durability and lifespan can further reduce the operating costs and environmental impact of EVs.
Living conditions and charging options: People in rented accommodation or without their own parking space often have limited access to private charging infrastructure. Solutions such as public charging stations in residential areas could address this challenge.
Secondary market for batteries: Developing a secondary market for batteries after their use in e-cars can further reduce the cost of batteries and promote sustainability.
E-mobility has already made significant progress, but there is still work to be done to overcome the challenges mentioned above. A holistic approach involving governments, manufacturers, infrastructure operators, navigation and society as a whole is required to further promote the acceptance of e-cars and make mobility more sustainable.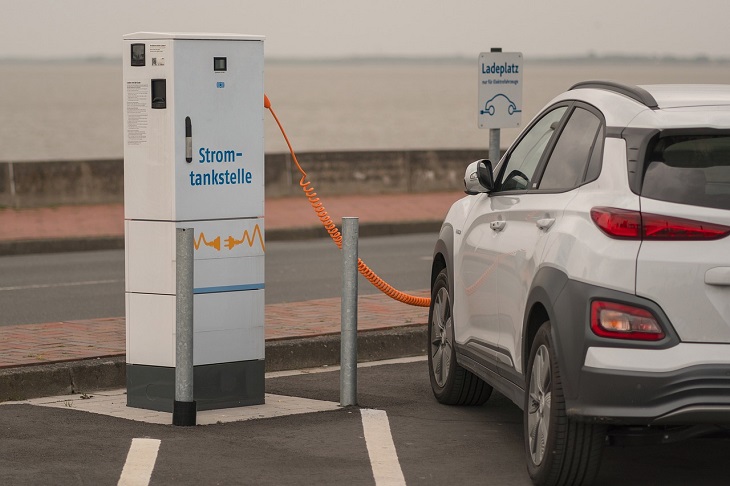 NDS supports expansion of e-mobility
The common navigation data standard NDS simplifies the e-mobility ecosystem, improves user experiences, and fosters innovation, all of which contribute to the increased adoption of electric vehicles. It creates a more attractive and user-friendly environment for both consumers and businesses, ultimately driving the growth of e-mobility as a sustainable and widely accessible transportation option. At first glance, data and navigation seem to have little to do with e-mobility. It is therefore worth taking a second look, as NDS can make a significant contribution to the breakthrough of electric mobility. 
So why can NDS benefit e-mobility adoption?
Let's get to the bottom of this:
Interoperability: A common data standard ensures that EVs, charging infrastructure, and related services can communicate and interact seamlessly. This interoperability makes it easier for EV owners to find charging stations, make payments, and access services across different providers and regions.
Seamless Roaming: A common standard can enable roaming for EV charging, allowing drivers to access charging networks from multiple providers without the need for separate accounts, cards, or apps. This simplifies the charging experience and encourages EV adoption.
Consistency: With NDS, EV drivers can expect a more consistent and user-friendly experience, from charging station location information to payment processes. This reduces friction and uncertainty, making EVs a more attractive option.
Innovation: Developers can build innovative apps and services that leverage the standard, leading to the creation of new features and experiences for EV users. This fosters competition and drives the development of value-added services in the e-mobility sector.
Market Growth: NDS can encourage businesses to invest in e-mobility solutions with confidence, knowing that their products and services will be compatible with a wide range of vehicles and charging infrastructure. This, in turn, fuels the growth of the e-mobility market.
Cost Reduction: Standardized data formats and communication protocols can reduce development and maintenance costs for businesses operating in the e-mobility sector. Lower costs can translate to more affordable services for consumers.
Global Adoption: A common standard can facilitate global adoption of e-mobility solutions. It ensures that vehicles, charging stations, and services can operate across international borders, making it easier for EV owners to travel internationally.
Regulatory Compliance: NDS can help to align with or support regulatory requirements in different regions, making it easier for businesses to meet compliance standards without having to customize their solutions for each jurisdiction.
Data Security: The standard can include provisions for data security and privacy, ensuring that sensitive information, such as user data and payment details, are protected in accordance with regulations. This promotes trust among users.
Environmental Benefits: A common standard can support the integration of renewable energy sources, grid management, and smart charging, helping to reduce the environmental impact of e-mobility and promote sustainability.
Infrastructure Expansion: A common standard can encourage infrastructure investment as businesses are more likely to commit resources to build and maintain charging stations when they know that these stations will be compatible with a wide range of EVs.
Back to news →