Elektrobit and NDS:
an electronic horizon for R&D
17. June 2020
NDS member Elektrobit (EB) is an expert for the bits and bytes that hold modern cars together. The global supplier of embedded and connected automotive software solutions focuses on vehicle infrastructure, user experience, connected car, and automated and autonomous driving. Within this product portfolio, there are several applications where precise and up-to-date map data is needed. One example is the electronic horizon.
The electronic horizon is a key element for autonomous driving. It provides vehicle ECUs (electronic control units) with detailed and up-to-date information about the road ahead – reaching much further than any sensor horizon can. With this data, vehicles can localize themselves more accurately, enhance their environmental perception, and improve their path planning. Several functions, from navigation to predictive driving, ADAS and autonomous driving rely on the electronic horizon.
NDS-embedded maps and the ADASIS specification
NDS-embedded maps provide comprehensive information about the road topology, geometry and other attributes such as speed limits, number of lanes, width of road. But how does the ADAS ECU access this information? EB robinos Predictor acts as a kind of middleman between map and ECU: The EB robinos Provider translates map data into actionable insights for the ADAS ECU by making use of the ADASIS protocol specification. ADASIS is a standardized data exchange protocol between the NDS map database and the ADAS application. It enables these applications to access data stored in the map data sources, build predictive data, based on map and position, and improve road safety, reduce emissions, and provide higher driving comfort. On the ADAS ECU in the vehicle, the EB robinos Reconstructor then makes this data available and usable, for example as indicators for adjusting the vehicle speed and the steering control.

A stand-alone map provider for R&D and beyond
As more and more automotive manufacturers and suppliers want to implement such map data to their next-generation vehicles but need to conduct R&D before doing so, Elektrobit has developed the EB robinos Predictor Eval Kit, a Raspberry Pi device that allows its users to easily create an electronic horizon in their development environment. By supporting the ADASIS specification and any NDS map up to NDS version 2.5.4 (which comes already preinstalled), this platform is equipped with everything that is necessary for a demonstration ECU. The Eval Kit includes an NDS map sample compiled by NDS member NavInfo Europe (Mapscape). Samples from other NDS members such as HERE or TomTom can be used as well.
Furthermore, integrations of commonly used development platforms such as the Automotive Data and Time-Triggered Framework (ADTF) and the Robot Operating System (ROS) allow its users to easily utilize the electronic horizon, not only for predevelopment purposes but also to develop and implement work results in serial production.
Practical applications
An electronic horizon created with the EB robinos Predictor Eval Kit, based on NDS maps, can be used for use cases in the test lab, for simulation, and for conducting real test drives. For in-vehicle installation, the device already comes with a GNSS receiver and can be connected to the CAN bus. In the vehicle, the electronic horizon is created based on the NDS map data, depending on the vehicle's position and movement, and is constantly being updated. The road data is being provided to ADAS ECUs without any delay in real time. The results can be visualized during and after the test drive via a Wi-Fi connection and browser application on any mobile device. For simulation purposes where the electronic horizon is constantly being generated, either a traced or previously calculated route can be fed.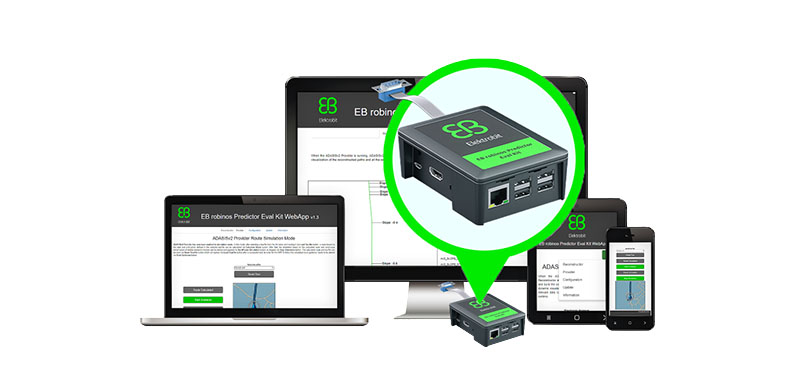 Interested in learning more?
On June 23rd experts of EB will do a hands-on demonstration of how the EB robinos Predictor Eval Kit is used in a free webinar. This includes a deep dive on how to configure the device and its settings as well as recording, replaying, and simulating test drives and configuration. The webinar will also discuss available map sources – NDS as well as cloud services by HERE and TomTom.
Back to news →