Panel discussion: Dependable HD maps for safe automated driving
5. October 2022
Do we need highly reliable maps for automated driving? What are the biggest challenges? What's the status? Questions like these were the focus of a recent discussion amongst industry experts in Los Angeles. At the ITS World Congress 2022, Martin Schleicher, Chairman of the NDS Association and Head of Software Strategy, Continental, shared his expertise on this current topic.
With the support of NDS.Live, HD maps can be used as additional source of information for automated driving systems through a flexible map service interface.

Martin Schleicher, NDS Association Chairman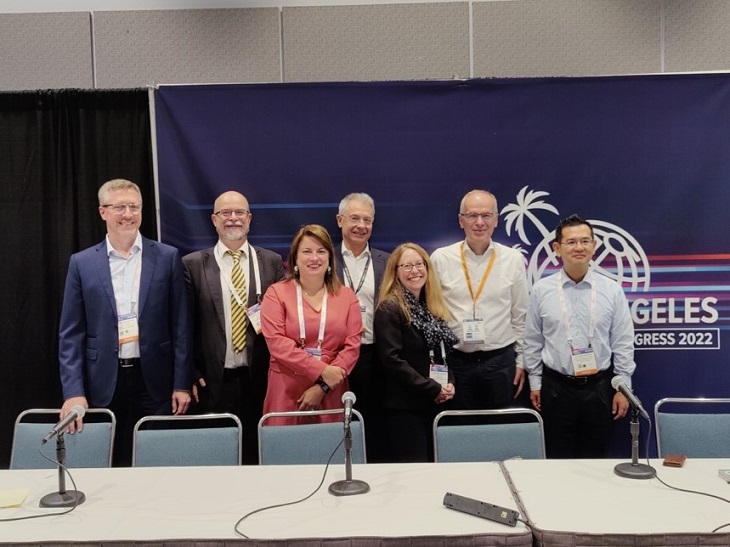 Across the industry, we are on a big learning curve with automated driving. It is important for all of us to talk among experts and exchange our viewpoints and approaches. This is what drives the safety, comfort, and thereby the adoption of higher levels of automated driving. The theme of the panel discussion at ITS was: "Dependable HD maps for safe automated driving: how do we get there from here?" The panel participants discussed how map safety depends on five aspects: map inaccuracies, localization errors, reality changes, map data errors, and possible map update interruptions. The participants talked about ways to address these challenges, such as system theoretic process analysis, cybersecurity assessment, as well as ISO 26262 compliance.
It's hard to imagine the future of automated driving (AD) without HD maps, because they allow sensor range extension, improved sensor performance, and monitoring of operational design domain boundaries. The problem: The infotainment maps used in the automotive industry today are not suitable for safety-critical systems. Therefore, new and more dependable maps need to be developed. In the panel discussion, leading international standards developers and experts from the automotive industry discussed use cases. They also talked about the current state of map technology and standardization, not omitting current challenges in using HD maps in safety-critical automotive applications.
The conversation built on the work of the Open Auto Drive Forum (OADF), ISO, and other key initiatives such as the Safety First for Automated Driving (SaFAD) project. The experts want to raise awareness of key issues and accelerate developments in this area. They encourage discussions with other sectors outside the traditional automotive field.
Schleicher summarized the event: "The panel at the ITS World Congress was super interesting and well attended. We had a well filled room of about 50 attendees. The audience asked questions on topics that are currently discussed in the industry on a technical and business level."
Martin Schleicher, Head of Software Strategy at Continental, is active in various consortia, and currently the Chairman of the NDS as well as a member of the program committees of several automotive conferences.
Would you like to learn more about NDS.Live and its options regarding HD map development? Sign up for the NDS.Live developer portal at https://developer.nds.live for free!
Back to news →