HERE Navigation Map delivers NDS promise of compatibility and interoperability
11. May 2021
The Navigation Data Standard (NDS) format is a success story. Instead of promoting and using their own proprietary standards, map data providers, system vendors and car manufacturers joined forces and agreed on a common data standard. From the very beginning, HERE was one of the main drivers of the NDS format. While many customer-specific solutions have already been deployed in the NDS format, HERE also offers productized, ready-to-implement NDS publications to be used by any customer: the HERE Navigation Map, the HERE ISA Map, the HERE ADAS Map, and the HERE HD Live Map in NDS. This article will shed a light on the rationale behind this development effort and explain the navigation solution in more detail.
Let us start at the very beginning. In its introductory section, the NDS Format Specification outlines the original motivation for the creation of the map data standard.
The key objective is compatibility and interoperability allowing the exchange of navigational data between systems that comply with Navigation Data Standard.

NDS Association: Navigation Data Standard Format Specification, Section 2: Introduction to Navigation Data Standard
The focus on enabling information exchange between map data providers, system vendors and automotive OEMs quickly gave NDS an advantage over proprietary map formats. It drove the adoption of NDS, and today millions of cars and over 30 automotive brands are using it.
HERE is a founding member of the NDS Association and has a long history of contributing to the NDS specification as well as commercializing maps in this format. When HERE began publishing its map content as NDS databases, these map creation processes were primarily focused on individual OEM platforms. Combining customer-specific requirements and leveraging the customization possibilities of the NDS spec led to very specific NDS maps that were not shareable across OEMs. While creating many flavors and customer-specific NDS maps looks impressive in numbers, maintenance and operational costs can become challenging. HERE aimed to have an offering to deliver on the NDS promise of compatibility and interoperability by providing a productized map that works for more than one customer. Hence, the HERE Automotive Products team decided to introduce NDS-based map products in 2019 in order to cater to current market needs and future trends by providing automotive-ready map data products in NDS. In this article we'll focus on the HERE Navigation Map in NDS format.

The NDS maps HERE created for customer programs support a complete set of navigation use cases. By consolidating the existing NDS implementations within HERE Technologies into a single product, HERE addresses the following needs:
Optimized maintenance over product lifetime by a common architecture and feature implementation
High data freshness by an automated production pipeline
Legal compliance of map with local legislation of countries
Clear and complete product documentation
Fast and reliable product delivery through high levels of automation

"The HERE Navigation Map does not just include the NDS delivery itself; it also features a compiler architecture and product creation infrastructure that meets these requirements. Data preparation and NDS compilation usually take place in a joint process and are only open for configuration in a late post-processing step", explains Robert Krumpolt, Product Manager for the HERE Navigation Map.
In a bid for efficiency, HERE lowered NDS product processing times and related costs. Redundancies were removed by separating common data preparation and compilation.
While the team at HERE predefined a product that covers almost all needs, they were aware that the NDS map still had to allow for some level of customization. Customer programs usually require different sets of features and geographical coverage. The NDS publication can therefore be modified to meet selected customer requirements.
Feature implementations in the HERE Navigation Map are informed by customer needs, market insights on innovations, and by HERE's content domain knowledge. Updated on a monthly basis, they represent the latest state of the NDS development at HERE and interested parties can request sample databases from HERE for evaluation purposes.
The focused product development will increase resource efficiency needed to leverage newly introduced NDS features across different customer programs. Customer requirements can define additional options for feature configurations.
The data freshness of the HERE Navigation Map is constantly improving. In recent years, HERE reduced the timespan needed for NDS compilation and package creation.
Regular updates prevent map data from aging on target devices. Monthly updates offer a well-balanced solution for a reliable, up-to-date onboard map experience. Which is why the HERE Navigation Map is offered with monthly updates, and less frequent updates are always possible as well. Frequent over-the-air updates in combination with a persistent map storage are supported by incremental patches and NDS Update Regions of a manageable size.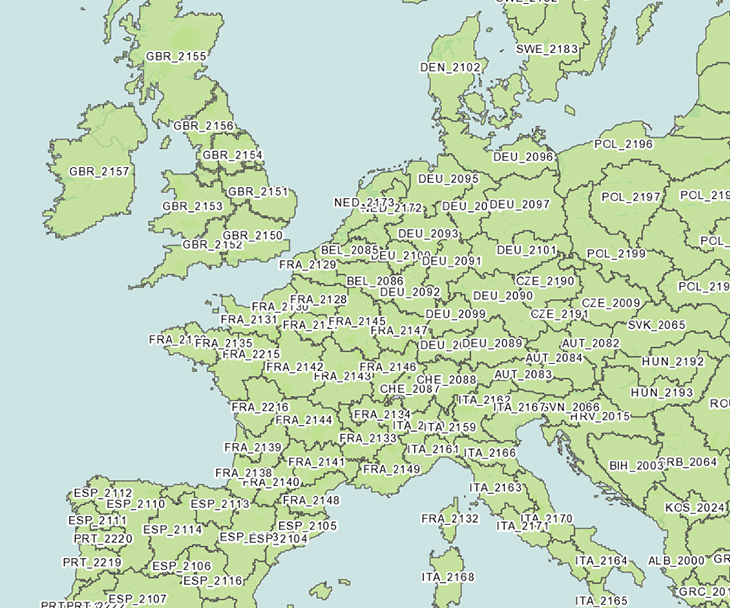 Vehicles sold with an embedded navigation solution require formal approval from authorities in countries like Turkey, Chile, or Argentina. In order to obtain it, the installed map data with its administrative boundaries and map object names have to comply with local requirements. In some cases, map data also needs to address border or naming disputes to obtain clearance in conflict areas. HERE keeps an eye on the latest developments and updates affected map products accordingly. This allows Automotive OEMs to deploy navigation solutions even in markets where publication of map data is restricted.
HERE maintains product documentation for the HERE Navigation Map and provides an NDS Filling Specification in conjunction with the NDS Format Specification. The documentation describes both the common part of the product implementation and aspects that are configurable for customer programs.
As an aligned data format, HERE Navigation Map integrates many HERE content products. Customers do not just benefit from the NDS database itself, but also from processes that allow easy deployment of map data into cars.
All this proves that NDS-based products are the best solution for addressing increased client connectivity and the demand for shorter map update cycles.
"At HERE Technologies we believe in standardized products that are widely accepted by the industry. NDS is well suited to build products on, and the HERE Navigation Map benefits from the transparency, tools, and documentation it provides. The product approach provides customers with tools and solutions for quick evaluation, easy implementation and an overall fast time-to-market.", says Philip Hubertus, Senior Manager, Automated Driving Content at HERE.
At the NDS Association, we happy to see the HERE Navigation fulfilling the NDS promise of compatibility and interoperability as HERE Maps in NDS can be adopted by any OEM and system vendors that is looking for a high-quality and mature map dataset in NDS format for their solution.
Back to news →