What's happening at the NDS Public Conference 2023?
18. April 2023
The agenda for the 5th NDS Public Conference on May 24 in Munich is now live! We are looking forward to getting to know our newest NDS members and learn more about how the NDS standard has been used successfully in recent navigation projects. Our chairman Martin Schleicher will lead a panel discussion with industry experts from BMW, Mercedes Benz, Bosch and NNG, and Fabian Klebert will share NDS's technical achievements from the last twelve months and explain why zserio has been selected as the serialization format for the NDS standard. Ottó Nyírő will give us a glimpse of future plans in NDS.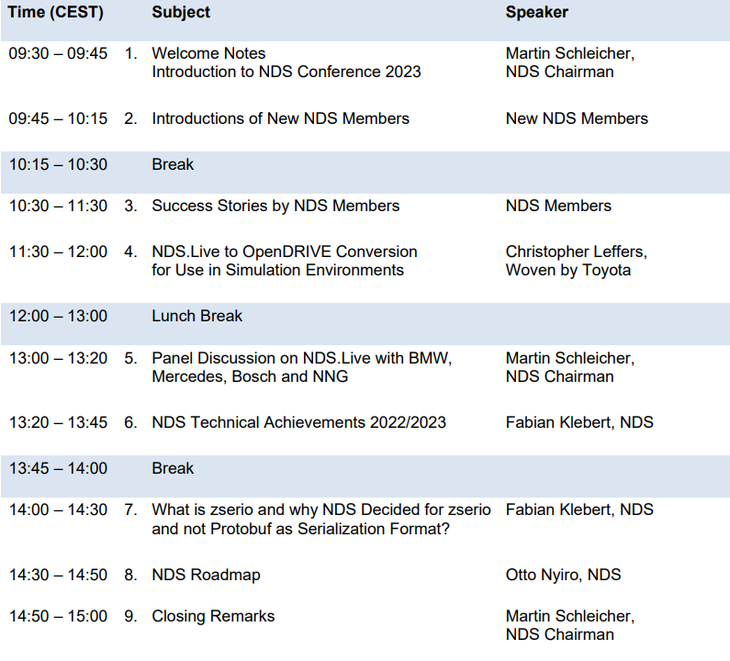 The full agenda is available here.
If you haven't already, register now for the NDS Public Conference! The event will take place on May 24th, 2023, from 09:30 to 15:00 CET, at the Novotel Messe Hotel in Munich, Germany. Participation is open to everyone (not just NDS members) and free of charge. You are also welcome to join us online via Zoom: please register here ahead of the event and you will receive the dial-in information within a few minutes.
We would also like to invite all NDS members to attend the NDS General Assembly right after the conference on May 24.
Back to news →