Two Days of Navigation Innovation: The NDS Tooling Days 2023
11. July 2023
In Munich's technologically vibrant heart, a gathering of forward-thinking minds from the automotive industry set the stage for two days of profound exploration, learning, and networking. Hosted at the Klebert Engineering office, the NDS Tooling Days 2023 turned out to be a rewarding adventure into the fascinating world of the Navigation Data Standard (NDS), shaping the future of in-vehicle navigation systems.
Day one set a spirited tone, starting with an introduction to NDS and an overview of the tool survey. This session brought the attendees up to speed on the state of play in automotive navigation data, providing them with a solid foundation for the content to follow.
The Certification Kit's deployment came up next, offering an in-depth look into the vital process that safeguards the quality and consistency of NDS products. Each facet of the deployment was discussed, sparking discussions on the nuances of the certification process.
As the day progressed, a hands-on workshop on custom test cases for the Certification Kit stole the spotlight. Here, participants were empowered to navigate real-world scenarios, sharpening their problem-solving skills, and deepening their understanding of NDS.
The first day's highlight was an online session with Richard Hipp, creator of SQLite, a software library providing a relational database management system. Hipp's profound knowledge and insights offered an enriching perspective on SQLite's role in the automotive industry.
Subsequently, participants delved into zserio, a data serialization tool fundamental to NDS. The tricks and updates shared were practical and offered a comprehensive understanding of the tool, valuable for both novices and seasoned experts.
Ending the day on a high note, participants shared their lightning talks, sparking lively discussions and an exchange of diverse ideas. The evening transitioned into a casual barbeque and networking event, where everyone could relax and connect on a personal level.
Day two promised to be just as engaging. It commenced with a session focused on unveiling the secrets of NDS MapViewer Search, followed by an overview of the Next Generation MapViewer. These sessions showed new possibilities, equipping participants with the ability to tap into the tools' untapped potential.
The practical experience continued with a workshop on writing custom data sources for the Next Generation MapViewer. This hands-on approach allowed everyone to implement their learning, deepening their understanding of the tool and gaining valuable experience.
At the end of the Tooling Days, an awards ceremony celebrated the standout contributors, making it clear that the event was not just about learning but also about recognizing talent and dedication.
Reflecting on the NDS Tooling Days 2023, one can't help but be excited about the future of automotive navigation. It was two days filled with innovation, collaboration, and inspiration. As participants departed, they took away more than just new knowledge; they carried with them a sense of community, a spirit of innovation, and a shared vision for the future of NDS.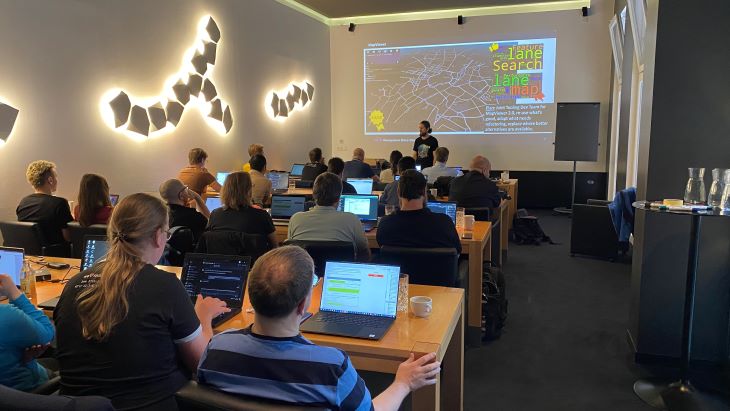 Back to news →