Who we are: HERE Technologies, founding member of NDS
28. January 2021
HERE Technologies is one of the major global suppliers of map data, navigation software and location-based services. It is also a founding member of the NDS Association and is actively involved in the organization, be it for further developing the standard, setting up reference implementations or simply keeping operations up and running.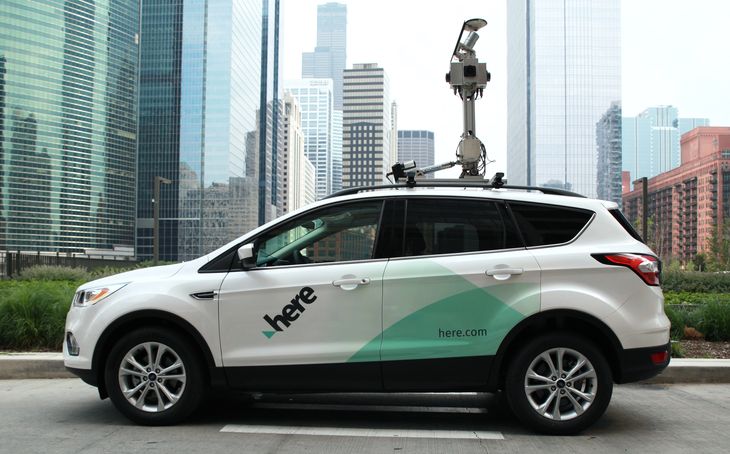 As an NDS pioneer, HERE has been involved in defining the NDS specification right from the start. The company took a driving influence in defining the map format specification versions 1 and 2 of what is now called NDS.Classic and has created a development compiler that enabled incremental map updates within just one minute. The compiler was showcased in 2011 and later updated to production level for Volvo, where HERE has been supplying a comprehensive navigation map dataset in NDS with global coverage (including Korea and China) since 2015.
The Volkswagen Group is another important customer for HERE map data in NDS format and is very committed to the NDS standard. HERE projects with Volkswagen include the "MIB2 High /+" and later the "MIB3 Top" projects with Audi or the "MIB3 OI" map, together with fellow NDS member Joynext who was responsible for the navigation software. The "MIB3 OI" powers the navigation system of all Volkswagen vehicles based on the modular transverse platform (Modularer Querbaukasten, MQB) – which includes almost all Volkswagen brand, as well as Seat, Skoda, and selected Audi vehicles.
These projects mainly support navigation and advanced driver assistance systems, and HERE also publishes its HERE HD Live Map in NDS format that enables automated driving.
Since 2015, automotive customer requests for map data in NDS for their navigation and ADAS projects have grown exponentially. This is why we built map publication products in NDS and continue to contribute significantly to the NDS specification and tools.

Philip Hubertus, Sr. Product Manager at HERE Technologies
To address this growing demand and achieve scalability, HERE focuses on two map products based on the latest NDS specification: The HERE Map for ADAS and the HERE Map for Navigation. Both are comprehensive map data sets that include map content specifically relevant to develop software for ADAS and navigation solutions and are adopted by several customers already.
Up next: NDS.Live
As with NDS.Classic, HERE Technologies is a major driver for the development of the next generation of the NDS specification, NDS.Live. NDS.Live is an interface definition that enables a distributed map data system and is key for the deployment of high definition, always up-to-date map data that will enable automated and autonomous driving. Together with Elektrobit, Joynext, NavInfo and NNG, HERE has formed the NDS.Live Joint Development team. The goal is to develop first implementations of NDS.Live map services.
As part of the Joint Development Team, HERE making their map data available via NDS.Live map services. The focus of the work is on data supporting the upcoming European Union Intelligent Speed Assist (ISA) regulation as well as ADAS-relevant features such as curvature, gradient, slope and road typology as well as several other road attributes like average speed and speed limits or warnings and restrictions are being transcoded into NDS.Live smart layers. This will allow customers to build solutions of various fidelity, from basic driver assistance on SAE level 0 to fully automated driving on SAE level 5.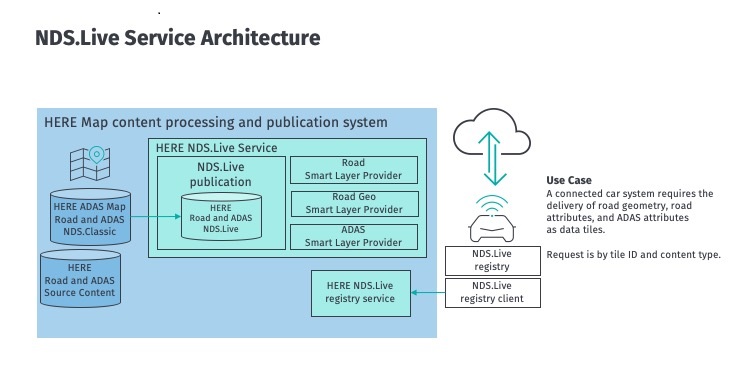 If you want to learn more about this project, check out the presentation from HERE's Boris Gumhold and Johan Bremer at the NDS Public Conference in September: Watch the video
HERE Technologies' roots date back to 1985, when US-based map data provider Navteq was founded. The company was then acquired by Finnish telecommunications expert Nokia in 2007 and is now owned by a consortium of technology and automotive companies. With more than 9,000 employees in 56 countries and its maps used in over 150 million vehicles, HERE Technologies is the number-one location platform worldwide.
Back to news →