Who we are: NavInfo brings smart mobility to life
5. May 2021
The China-based technology company NavInfo provides HD maps, high accuracy positioning technology and automotive-grade semiconductors for infotainment, ADAS and autonomous driving. Now, the long-term NDS member developed the first NDS.Live implementation based on the next generation of map standards.
The NDS standard is the benchmark for high quality map data and navigation services worldwide. NavInfo has been involved as an NDS technology partner from its earliest days.We have evolved into experts and built core competencies in the broad spectrum of NDS, and today NDS plays a central role in how NavInfo builds, updates and delivers our high-quality SD and HD maps.

Nico Glorius, Product Manager, NavInfo
The company was founded in China in 2002 and is the market leader in navigation map, navigation software development, dynamic traffic information, location big data and customized connected vehicle services to both passenger and commercial vehicles. Now, NavInfo is ushering in the era of intelligence, connectivity, and electrification in the automotive industry with a comprehensive strategy with the focus on map cloud, autonomous driving solutions, automotive chipsets and location big data. The company's goal is to become one of the most trusted mobility solution providers – in China and beyond.
Its subsidiary, NavInfo Europe incorporates the Advanced Research Lab and the Global Market Development activities for NavInfo. Based in Eindhoven, the Netherlands, NavInfo Europe has accumulated great domain knowledge in Computer Vision and other fields of Artificial Intelligence, which has been applied to automated mapping and data processing on a large scale. Nowadays, NavInfo Europe has grown to be an independent entity that provides intelligent solutions to automotive markets and smart city domains. Map Data Services, as part of their portfolio, is the business unit behind their NDS activities.
Navigation is at the core of NavInfo's business. NavInfo released the first commercial digital map in China in 2002. Since then, the company has gathered strong data integration and processing capabilities and is continuously expanding its data collection. The high-quality, fast and custom-made map compilation capability relies on a unified map format according to the NDS standard for automotive OEMs, system vendors, consumer electronic providers and the mobile internet industry. As one of the founding members of the NDS association, NavInfo has been proactively involved in various working groups to continuously drive forward the NDS standard.
Last year, NavInfo joined forces with NDS members to build the next generation of map standards by implementing NDS.Live – the next generation navigation data standard for connected and automated vehicles. Designed as a distributed map data system, NDS.Live can cover all use cases relating to map data, especially for ADAS, embedded navigation and autonomous driving systems. NDS.Live features the same efficiency, security and interoperability as NDS.Classic, but offers more flexibility in terms of data management and deployment.
To demonstrate and verify the capabilities of NDS.Live, NavInfo together with four other NDS members formed a joint development team and started the first implementation of NDS.Live in July 2020. Due to the highly modular design of NDS.Live and similar modular design of NavInfo's toolchain, NavInfo efficiently completed the migration from NDS.Classic to NDS.Live. Using NDS.Live NavInfo extends its offering of NDS based services by adding highly customizable and efficient layer-based streaming solutions for Navigation, ADAS and Autonomous Driving. NavInfo will continue exploring NDS.Live, by working closely with other NDS members, to help shape the future of the new map standard.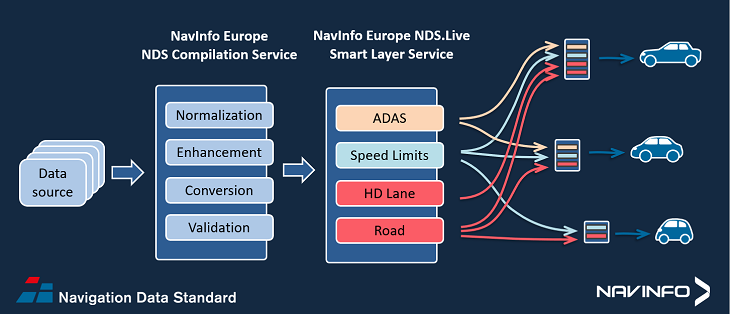 The next steps for NDS.Live development will be an expansion of the scope to navigation and infotainment as well as the creation of an NDS.Live development portal which will be unveiled later this year. If you want to find out more about NDS.Live, watch the webinar series here.
Back to news →