A Look Back at the 5th NDS Public Conference
20. June 2023
The members of NDS Association now met in Munich and online to talk about best practices, exchange ideas, discuss trends and more. You weren't able to attend? No problem, we have summarized the highlights of the event for you in this blog post. And don't forget: Next year we will meet again for the 6th Public Conference. So make a note of it now! Among the speakers 2023 were Sandu Buraga (Harman), Boris Gumhold and Joe Suh (HERE), Juergen Friese (Intellias), Sapna Ahuja (MapMyIndia), Martin Schleicher (NDS/Elektrobit), Fabian Kleber (NDS), Otto Nyiro (NDS/NNG), Martin Pfeifle (NNG), Christopher Leffers (Woven by Toyota) and Julia Sauter (ZF Friedrichshafen). Here you can find the videos of the various presentations at this year's NDS Public Conference.
After welcoming the guests, NDS Chairman Martin Schleicher, representing NDS member Elektrobit, talked about some developments since the Association's last conference in 2022. He said: "NDS is the global map standard for automotive ecosystems. It has been on the road since 2012 and is already used in millions of vehicles from more than 40 automotive brands. There are many good reasons to become an NDS member." In 2022, all NDS.Live layers for HD and SD maps were made product ready. At the end of the year, NDS started a partnership with AUTOSAR to enable in-vehicle communication of map data with NDS.Live based on the AUTOSAR SOME/IP protocol standard. The tools and documentation are ready for self-certification of NDS.Live services. Furthermore, Schleicher reminded the audience that the NDS.Live standard and selected tools are also available to non-members for evaluation and prototyping.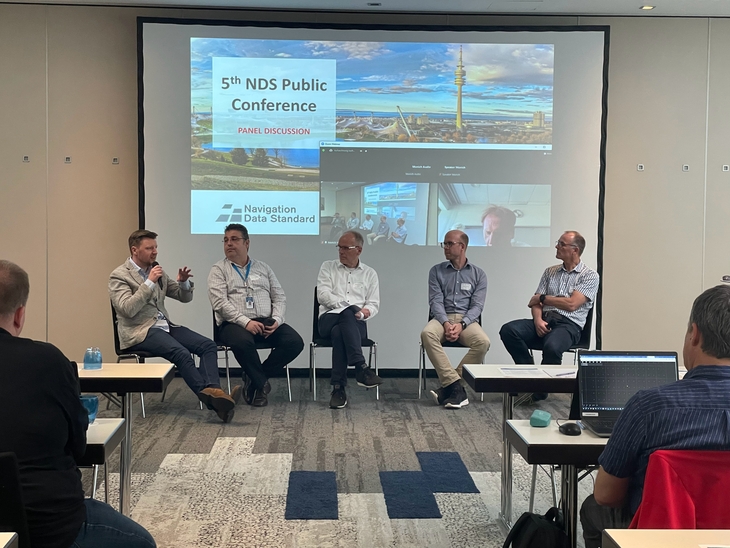 New NDS members
Another item on the conference program was the introduction of new members. These include Intellias, MapmyIndia/MAPPLS as well as ZF Friedrichshafen, who were also present in Munich and introduced their organization.
Juergen Friese introduced Intellias, a global engineering company addressing mobility industry challenges such as e-mobility, connected mobility, infotainment and comfort, AD and intelligent transportation. Intellias' pillars in mapping are expertise, optimization and end-to-end navigation. Along with COVESA and AUTOSAR, Intellias considers NDS as a key industry standard necessary for success
Sapna Ahuja then talked about MapmyIndia/MAPPLS (CE Info Systems Limited) as the original digital map product makers from India with a global presence. She presented key success figures and gave an overview of the comprehensive range of offerings. MapmyIndia/MAPPLS has an HD map program since 2017, targets self-healing maps, EV range and routing challenges, and is working to make its maps available for the NDS.Classic and NDS.Live platforms.
Finally, Julia Sauter presented ZF Friedrichshafen with its key data and locations. ZF supplies systems for passenger cars, commercial vehicles and industrial technology. ZF is investing more and more in research and development as well as in digital innovations. In this context, networked maps and NDS are considered enablers for ZF's Next Generation Mobility and related technology fields such as AD, Integrated Safety, Vehicle Motion Control, and Electromobility.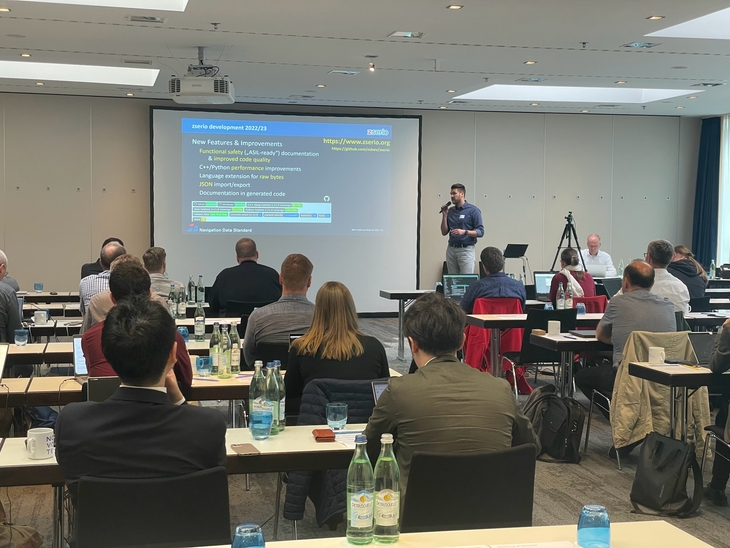 In another session of the conference, NDS members such as NNG, Harman, HERE and Woven by Toyota presented their personal experiences and success stories with NDS.Live. Furthermore, Martin Schleicher moderated a panel discussion with Sascha Flossbach (BMW), Bjoern Oltmanns (Mercedes), Jens Vogelgesang (Bosch), Vassilios Panagiotou (Harman) and Martin Pfeifle (NNG). They explained how they use NDS.Live in their organizations and confirmed that NDS.Live is on the right path.
Technical achievements
In another presentation Fabian Klebert gave an overview of NDS' technical developments in 2022/23: NDS.Live is now product ready, all layers (HD Map, ADAS Map and IVI) are fully available. A standalone MapViewer app is planned in 2023. Klebert furthermore reported on extensions of the package manager, new online services for the registry and sample maps, new reference implementations for getting started with NDS, and new features and improvements to zserio, which is used for serialization/deserialization.
The Public Conference again confirmed that NDS.Live is the right approach by moving from a database format specification to a service interface and taking into account use cases from EV, AD and Smart Mobility.
The videos of this year's conference can be found here: https://www.youtube.com/playlist?list=PLZVhrc-mZmKItgXjXiv8fQgtFMhDs4Vru
Find out more about NDS.Live in the NDS.Live Developer Portal.
Back to news →