The 2nd NDS Public Conference in Review
2. October 2020
The NDS Association has started organizing an annual public conference in 2019. The event is open to everyone, with the goal to achieve more visibility and awareness for NDS by communicating the NDS strategy and the benefits of using NDS to the industry. And we love the opportunity to have discussions and get feedback from the automotive eco-system players.
But this year we were facing the challenges of organizing an event given the current COVID situation. So we invited NDS Association member companies in person to an event location in Frankfurt, Germany, and opened the event online for everyone. We had 15 representatives of NDS member companies in the room, more than 200 participants joined the event online.
To all attendees: Thank you!!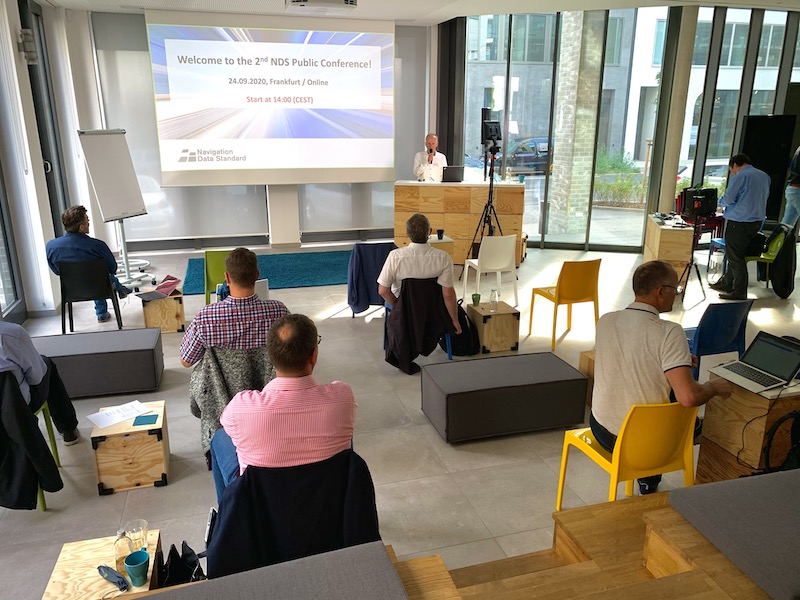 After the welcome by NDS Association Chairman Martin Schleicher, updates on the activities of the NDS Association on the business and technical level were shared.
Dr. Markus Kerper of the Volkswagen Group's Car.Software organization spoke in his keynote about the benefits of using NDS. He also showed a video of the lane precise positioning and guidance feature that is available in the latest navigation systems across Volkswagen's standard engine and electric vehicles as well as Seat and Skoda cars.
The Car.Software Org is committed to NDS and will plan future generations of the infotainment based on NDS

Dr. Markus Kerper, Volkswagen Group's Car.Software Org at the 2nd NDS Public Conference
The four latest NDS Association members FCA, Huawei, INAVI, and TRI-AD presented themselves and their reasons for joining the NDS Association.
This was followed by Telenav, HERE Technologies, and TomTom, who presented NDS.Classic applications, map products, and success stories.
Definitely a highlight was the demonstration of the first NDS.Live implementation that was developed jointly by the NDS Association, HERE Technologies, Elektrobit, Joynext, Navinfo, and NNG.
Last but not least, NDS Association Product Manager Georg Horn shared an update on the future of NDS before the conference was summarized and closed by NDS Association Chairman Martin Schleicher.
With this news post, we are happy to be able to share nearly all videos and presentations from the event with you. Please find the links below.
Watch the videos and download the presentations from the event

Do you want to watch all available videos in the order of order of appearance? Great! We have prepared a playlist on the NDS YouTube channel for you.
Welcome and Introduction to the 2nd NDS Public Conference
by Martin Schleicher, NDS Chairman
NDS Technical Achievements 2019/2020
by Fabian Klebert, NDS Technical Coordinator
How Volkswagen profits from Navigation Data Standard: Past, Present and Future
by Dr. Markus Kerper, Car.Software Org

New member introductions
Fiat Chrysler Automobiles
by Dinesh Balakrishnan (PhD), FCA AD
Huawei
by Wu Yong, Huawei
INAVI
by Kwangpyo Choi, INAVI
Toyota Research Institute – Advanced Development (TRI-AD)
by Naoya Kuwata, TRI-AD

NDS.Classic Applications
NDS.Classic Streaming
by Mihai Cozma, Telenav
HERE Navigation Map in NDS
by Robert Krumpolt, HERE Technologies
Leading the way: How Standardization helped scaling TomTom's NDS Business
by Volker Hiestermann, TomTom

NDS.Live Release Demonstration
NDS.Live Introduction and Overview
by Fabian Klebert, NDS Association Technical Coordinator
HERE NDS.Live Services
by Boris Gumhold, HERE Technologies
Joynext NDS.Live Visualization Client
by Frank Aurich and Dirk Legler, Joynext
Improving the eHorizon experience with NDS.Live
by Emanuel Elhardt, Elektrobit
Navinfo NDS.Live Services
by Nico Glorius, Navinfo
NNG NDS.Live Intelligent Co-Driver Client
by Ottó Nyírő, NNG

Future of NDS
Future of NDS: Where we are, where to go, and how to get there!
by Georg Horn, NDS Association Product Manager
Summary and Closing Remarks
by Martin Schleicher, NDS Association Chairman
Back to news →